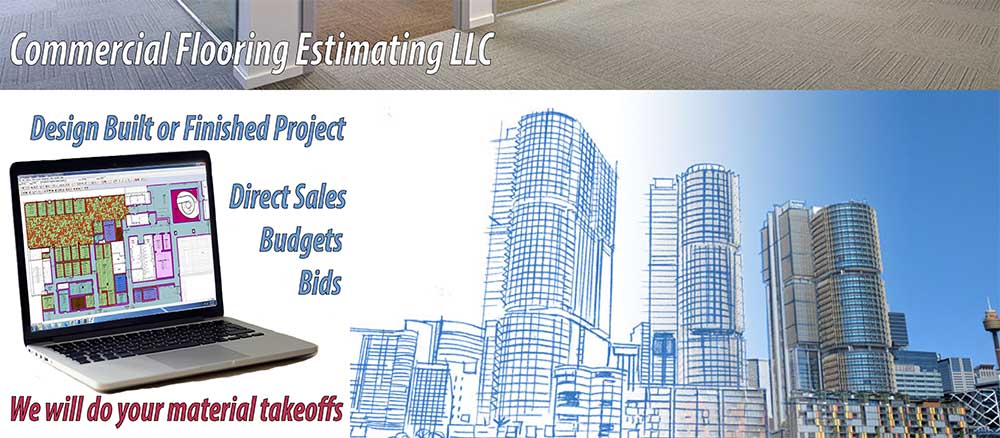 Floor Estimating Service
CFE is an online flooring take-off service company, based and staffed in California, USA, trusted since 2008 by flooring professionals and specialized in providing accurate flooring material quantity takeoffs, at very affordable fixed rates.
Key Benefits
Fixed price per square foot. Pay only for net coverage area.
Expert estimates for carpet, resilient, rubber, plank flooring, concrete floors and more.
Fast take-off estimates available, most with a 24 hour turn-around.
The most accurate take-offs you will ever find, using professional Callidus software.
State of the art reports, seam diagrams, colored layouts and product keycode integration.
Material quantification designed to minimize waste, yet implement all design requirements.
US based corporation with all full time estimating staff located in the US.
How does it work?
Request our confidential Price Sheet Package, selecting your preferrences, budget and any special instructions. A company account will be opened upon receiving completed forms.
2
Send us your projects...
You can register to upload blueprint plans/specs, or email them to us directly, or send us a link to an online copy or bid invite. We prefer receiving complete packages with plans, specifications, addendums, RFI responses, etc.
3
We will process the estimating takeoffs
Most projects completed within 24 business hours, however larger or more detailed projects may take longer. Estimating will be only for products your company requires, using the Callidus software.
4
Receive completed PDF reports
We will send PDF format takeoffs, that are easy to read and open on any device. See our sample reports here. Complete material quanitities showning Net and Gross areas with qualifications, exclusions and important notes.

Quality and Accuracy
Provide professional "shop drawings" for submittals & approval purposes.
Give installers easy to read, color coded plans with seam diagrams, for installation.
Avoid costly errors, sleepless nights & headaches from unmatched services.
Be professional. Be accurate. Want the Best for your company!
Trust and Affordability
Thousands of projects completed for hundreds of clients: flooring installers, architects, designers, manufacturers, etc.
Trusted by StarNet and FUSE Alliance members, World Floor Covering Association members, Abbey's members, AFA, CIR and many more.
Saving companies time and money, while simplifying the estimating process with accurate results.
We can match and create any patterns, inlays & designs!




Client Testimonials
Thanks for your support of our network; our members love working with you!
Geoff Gordon, President of FUSE Flooring Alliance
Thanks Cristian, glad things are going well. Good product and good service tend to drive success!
Fred Williamson, VP of StarNet WorldWide
I have worked with CFE for over 10 years. Cristian is very professional, his work is concise and completed within a very reasonable amount of time. The attention to detail makes putting together my quotes very easy. The overall package that is delivered is well worth the cost. I would highly recommend his services to anyone in need of it
Terry Zine, President of Congress Flooring Inc., MA
I couldn't be happier. Everything was perfect. I'm very happy and will recommend you highly. This job was complicated and you did a great job of making the bid easy to submit. Thanks for your quick response and attention to detail !
Eric Johnson, President of Eric Johnson Enterprises, KY
Cristian and his group at CFE are much more than an estimating business; they have been an extension of our business and have helped us grow from a small startup to a branded dealer in our market. Their attention to detail, responsiveness and personal interest in our projects have been pivotal to our growth. I highly recommend their services, whether you are a large or small flooring company.
Joe Waldoch, President of Core Commercial Flooring, MN
We just wanted to reach out to you and thank you for all of your hard work and professionalism your organization brings to BTFS. Your bids are always performed in a timely manner and throughout our many years working together we have never had any issues. All materials are always accounted for and our bids are always competitive. Thank you for your hard work as it is a large part of our success.
Ben & Christine Todd, Presidents of BTFS, NY
Over 100 successful companies trust CFE with estimating flooring projects! Join us and start saving...
We are committed to providing you with exceptional service, as our goal is to build a long lasting relationship.