Free Material Takeoffs
Commercial Flooring Estimating LLC is offering a Free Trial of our floor estimating services. Try our services and see if and how we would fit with your company's model.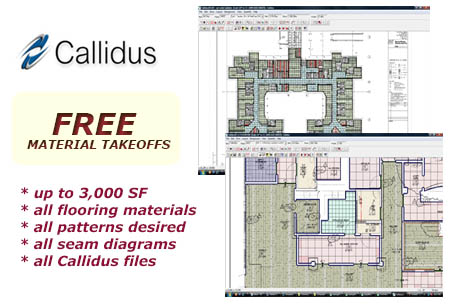 Our takeoff process has been streamlined to meet your company's takeoff objectives. You will receive the following reports and diagrams in PDF format:
Takeoff report: all net & gross amounts, qualifications, exclusions and other notes.
Seam diagrams: used for shop-drawings submittals or to be provided to installers.
Material keycodes: a colored plan with a material legend showing material locations.
Callidus files: keep master file as backup.
Why are we offering this? Simple! To show you that you can have an exceptional takeoff estimating service and do your material takeoffs, with quality and affordability.
Send us your Finish Plans and Schedules as attachments or direct links, and let us know your preferred flooring material and we'll do the rest.
Offer limited to Commercial Projects. Limit one Project per new Company.
Thank you and we look forward to working on your future projects!