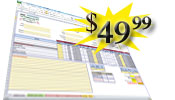 ADVANCED Flooring Estimating Sheet ! (PRO VERSION)
This is an advanced flooring estimating worksheet, intended for flooring professionals only. It is filled with complex features needed to properly estimate small to large scale commercial flooring jobs.
Key Essential Features Include:
* Line itemization of products with takeoff quantities, labor costs and material costs - single line.
* Ability to assign Gross Profit % Markup to Labor and Materials - per each line item material.
* Also a built in Gross Profit % total margin, with combined average from Labor and Material.
* Flexibility to adjust the overall Gross Profit % of all combined averages.
* Template Excel file, with macros that transfers data to other included spreadsheets.
* Three proposals forms included - with built in exclusions:
Unit Price Proposal - shows line item and built in price per item!
L & M Proposal - show line item with breadown for labor and material per item.
Lump Sum Proposal - recommended form for bidding to GCs - per specified sections!
* Extra worksheets added: RFI and Fax Cover sheets.

Other Features Include:
* Works on ALL FLOORING TYPES...including tile, hardwood, epoxy, etc...
* Comes with a completed sample sheet, with detailed explanations for each field!
* Line items to each material type with separate labor and material cost breakdowns!!
____________________________________________________________________
FREE TRIAL - ADVANCED Flooring Estimating Sheet
Try out our estimating Excel Workbook before you buy it! It's free with working cell & data functions!

* Some system functions are disabled on the trial workbook sheets - such as save, print, copy.
* The workbook contains the main estimating sheet and a completed estimate sample.

* The file is a compiled EXCEL file (.exe) which works on your existing Excel. No special software required to use it!
* Formulas are not visibile and editable for security reasons. This option is only available on the full paid version!
* Simply download it and click open file upon finshing.

SECURITY NOTE: This file is an .exe file, compliled from .xlt file - for code purposes. Your computer's security software (AVG, Norton, etc) may ask to verify the identity. Please confirm that this is a legit file and do not discard if warning is presented. This file is 100% clean and only distributed by us - the authors of it. Security programs may assume that .exe files may posses a security thread, therefore alerting you.
* The original (non-trial) full version will not be compileted and is offered in the EXCEL (.xltx) file extension - to fully integrate with your existing workbooks (if any). It will also come with a password to unlock the workbook cells as needed to by modified.

DOWNLOAD THIS FREE TRIAL ADVANCED FLOORING ESTIMATING WORKBOOK! (Click Here)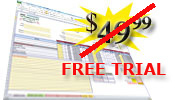 ---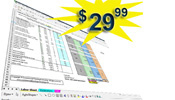 Labor Estimate Sheet - Complete and ready to use! (For LABOR shops)
If you're a labor shop and want to price out a client, use this form!
You should already know 3 things:
1). How much an installer man day (loaded) wage is at your shop.
2). How much an installer can install per day (quantity) of any material.
3). How much profit you want to make on the job.

Use this form to plug in the takeoff quantities and QUICKLY get a number for labor!

Estimate like a pro with this complete labor estimating form. With built in man day production rates, simply add in your man day load wage, material quantities & profit margin.

Features Include:
* Built in man day production rates! (see all items from Production Rate form below)
* Breaks down each line item with it's own unit price! (Per SY, SF, LF, etc)
* Calculates man days for each line item and does an overall man day total!
* Shows total amounts per each line item, with and without profit margin percent added!
* Displays labor total amount, labor profit amount and total job labor amount with profit!
* Comes with an Explanation and FAQ sheet, outlining all functions, to guide your process!
* A complete labor estimating sheet package!

MOST RECOMMENDED SOLUTION FOR YOUR LABOR ESTIMATION!

---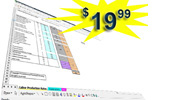 Production Rate Form (with Man Day calculations)
So you have your takeoff quantities, but wonder how many man days will the project need? How many people should you send to do the job? Here's the worksheet that will let you know...

Industry standards for commercial floor installation. Knowing how much your installer should be able to install per day will help you determine how many installers to send to a project and how long it will take to complete.
Features Include:
* Industry installation standards for your installers to use!
* Calculates man days for each line item and does an overall man day total!
* Man Day Rates for: demolition of carpet (tiles, broadloom, rubber back), resilient and base. Install rates for carpet (tiles, broadloom, rubber back), stairs and patterns with design elements. Rates for resilient (VCT, sheet vinyl, linoleum, rubbers), flash coving, heatwelding and outside corners. Rates for base install (4" & 6") and transitions. Also cells with built in rates for additional preparation and extensive patching, calculated at regular hours. (NOT for ceramic tiles, hardwood flooring or epoxy flooring)
* Comes with an Explanation and FAQ sheet, outlining all functions, to guide your process!

STOP GUESSING YOUR PROJECT MAN DAYS - USE SOMETHING THAT WORKS!

---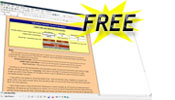 FREE - Travel Pay Calculator
Easy calculator for installer's travel time and miles to/from shop to project site. With built in mileage allowance, free shop zone area and more...
Features Include:
* Easy Travel Mileage & Travel Time Calculation!
* Round Trip to/from shop to project location!
* IRS travel mileage reimbursement allowance payable for each mile driven by installer!
* Free Shop Zone mileage area allowance - shop radius boundry of non payment!
* Installer loaded wage field - to calculate precise payable timing for traveling!

Simple estimating solution for out of area projects! (click image to download)